Can I hire the smaller meeting room and not hire the hall?
Yes, the hall and stage can be hired
independently or together.
What equipment does the meeting room have?
The meeting room has an independent projector and sound system. There is a portable screen which makes the room suitable
for small presentations or training.
Is there a PA and/or music system?
The hall is equipped with a comprehensive sound system which can play from CDs, MP3 players and iPODs. The sound
system is also linked to the projection system, ideal for presentations, films etc.
What facilities are there for wheelchair users?
Wheelchair access to the hall and meeting room is provided. There is also a purpose built toilet for wheelchair users.
Is there an internet connection?
A wireless network is available, free of charge, in the hall and meeting room. All users will be required to sign the Acceptable
Use Policy and be bound by its conditions.
I am organising a large event can you supply food?
We will be pleased to put you in touch with local caterers who we are sure will be able to meet your requirements.
What do I do if I wish to view inside the Hall?
Please call 01308 482532 to arrange a visit.
How do I check availability and charges?
Click Here
The Main Hall (15m x 9.5m) is ideal for large gatherings such as weddings, parties, concerts, conferences and presentations. It will seat up
to 154 in rows for conferences, concerts, plays, films etc. or 100 seated at tables. The sprung wooden floor, with a nonslip surface that
includes under-floor heating, provides a comfortable environment. For those events which require subdued lighting a fully controllable
lighting system is installed. A Superfast Broadband service is available free of charge.
From the hall and rear patio there are panoramic views across the Bride Valley, a wonderful back drop for those cherished photos
There is a full sound system which includes the use of a projector, computer and DVD facilities. There is also a loop system for the hard of
hearing. The stage is equipped with a full lighting set. The main hall may also be used in conjunction with the Meeting Room and Stage
(8.5m x 3.75m) which also has under-floor heating and a separate entrance suitable for wheelchair access. The Meeting Room has a
seating capacity of 30, a broadband internet connection and projection facilities. This area can be separated from the hall by use of an
acoustic screen which significantly reduces noise transference. For example a meeting could be held here whilst a sporting activity is being
played in the Main Hall. This makes the meeting room an ideal meeting or training facility for local organisations and businesses.
The kitchen is fitted out to commercial standards for the preparation and serving of food and drinks, plus dish-washing facilities. When hiring
the hall the kitchen can be used free of charge to make hot and cold drinks, but full use of the kitchen will incur a charge.
Outside:
The Hall faces south and from the hall and patio there are panoramic views of the Bride Valley. The four sets of french windows
lead out from the main hall onto a large paved area beyond which there is an extensive area of grass. In the summer this outside area is a
fine extension of the hall and its use is included with the hire of the hall.
Parking:
25 parking spaces plus 2 disabled bays.
Licences:
The Hall is licensed for music, dancing, film shows and the sale of alcohol. There is full public liability insurance.
The Hall, built as a joint project between Thorners School and the local community in Litton Cheney,
was opened in May 2009.
FREQUENTLY ASKED QUESTIONS
Schoolhouse Lane, Litton Cheney, Dorset DT2 9AU
Litton and Thorners Community Hall
For bookings and information contact Wendy Firrell Tel: 01308 482532 email:
wtlitton@gmail.com
Band 1:
Private hire by residents, organisations or clubs
within
the Thorner's School catchment area.
Charges
Times
Main Hall
Meeting Room/Stage
Hourly Rate
All Times
£7.00
£4.00
Full use of kitchen £5 per hour to a maximum of £30 per day.
Band 2
: Private hire by individuals, organisations or clubs outside the Thorner's School catchment area.
Hourly Rate
Weekdays
£10.00
£6.00
Weekends
Friday 4pm until Sunday 1pm
Full use of kitchen £5 per hour to a maximum of £30 per day.

















Bookings for large events such as Wedding Receptions etc.
Exclusive use of all areas from 4.00 pm Friday until 1.00 pm Sunday

£500.00
Charges
Times
Main Hall
Meeting Room/Stage
TRUSTEES and COMMITTEE MEMBERS
At the 2016 LATCH AGM it was suggested that a list of LATCH Committee/Trustees should be displayed on the village website.
In accordance with the charity's constitution, most of the places on the committee are filled by nominations from various village
organisations. Two places are up for election each year and there is room to co-opt people when thought appropriate.
LATCH is always on the look-out for volunteers willing to take on committee/trustee responsibilities, keyholding duties and just
plain helping out. If you feel you would like to be involved please contact either Ron Davidson (482661) or John Firrell (482313)
– you will be most welcome.
Current List as of January 2018:-
Ron Davidson (Chairman) – Litton Cheney Social Committee representative.
John Firrell (Secretary) – Parish Council representative.
Graeme Hickling (Treasurer)
Mike Sitch – Headteacher (Thorner's School representative).
Alison Dunbar – Bride Valley Scouts (Youth Organisations representative)
Wendy Firrell (Booking Clerk) – Co-opted
Andy King – Elected at the AGM
John Salvetti – Elected at the AGM
Freddie Spicer
John Vercoe – School Governor (Thorner's School representative).
All the above are listed as Trustees of Litton and Thorner's Community Hall and their details shown on the Charity Commission
website.
COMMUNITY HALL FACILITIES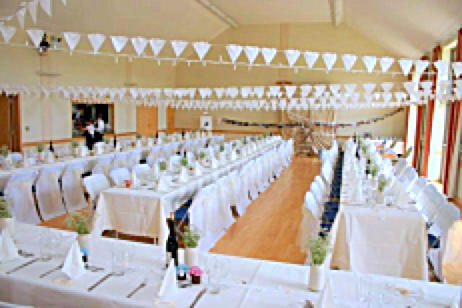 Photo by Claire Moore 3_7_2021