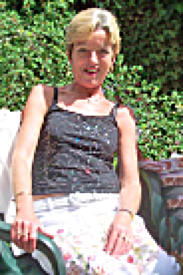 The following address was given by Gill Rollo-Smith at a celebration of Sheila's life on Wednesday the 27th March 2013.
Keith, Jamie and the Family would like to thank everyone for coming today to take their leave of Sheila.
I knew Sheila for only 24 years, which was not nearly long enough. We both helped out at the toddler group, fetes,
Christmas fairs and fund raisers of all sorts. Sheila loved bright colours, especially purple and she was an excellent jumble-
sale stall manager - no purple garment on her stall would go un-homed.
My daughters adopted her as a surrogate mother because she was kind and a lot less critical than me. To her they confided
things they would not divulge to me, although she discretely let me know if any secret was important.
Sheila suffered a lot of loss over the years - her mother became ill and passed away, the 2 years during Daniel's illness were
terrible and then John's road accident. But all through this, Sheila and Keith were immensely strong and tried to give the
boys all the time there was. During Dan's illness they went to Euro

-Disney. T

he school children were very envious because,
not only were they the first to go there, but also they were allowed to skip the queues for
the rides!
Sheila was not a natural country girl. Keith told me that, when they were courting, she was very dubious about coming to live
in Laurel Cottage as the village had no street lights. When Tod arrived Sheila had to forgo her high heeled leather boots and
buy some wellingtons - for the first time in her life. However, she never got over her fear of horses and indeed all farm
animals, screaming like a little girl and wanting to run away if so much as a sheep or chicken approached. In spite of the
livestock and darkness, Sheila was happy in the village and in their warm cosy house.
In all those years I only once saw her withoutí her make-up and neat tidy well groomed hair.

I did learn to always call out
before opening the garden gate in the summer in case she was sunbathing - a serious sun-worshipper.
When Sheila herself became ill she was brave and strong - she tolerated and endured an enormous íamount of medical
intervention but only became downright angry when she gained weight as a result of the steroids. For a long time no-one
knew that this lung problem was to take her away. But sadly, last August the diagnosis changed to cancer and treatment was
unsuccessful.
Sheila was our hairdresser - the village's hairdresser, she was also on occasions our deliverer of the Echo and for many
years one of our dinner ladies at Thorners School. Sheila could drink, no actually she couldn't and she probably shouldn't
have either. But she did and always with huge enjoyment. She sometimes needed to be escorted home and occasionally
steered away from the streams although I am not entirely sure who was guiding who sometimes. Remarkably and unfairly
she never suffered with hangovers.
Sheila Barnes was a very good woman, kind and warm hearted, the best of neighbours and a staunch friend and I am both
proud and privileged to have known her.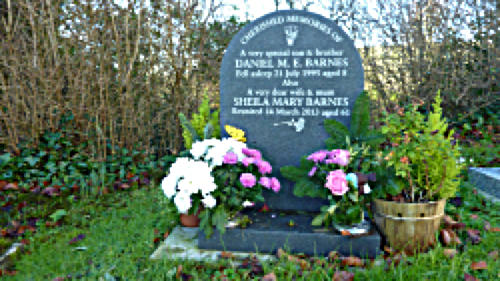 Some of you may be wondering why I have been given the honour of delivering this eulogy today. Well, initially Gordon Moxom
was asked to give it but, for health reasons, he felt unable to do so and I was asked to deputise. I would like to thank him very
much for his help with its production.
You might then ask "why Gordon Moxom"? What has he to do with the family? Well, not many of you may know that Veronica
and Gordon's mother were sisters, which made Veronica Gordon's Auntie. Not only that, within a few weeks in 1937, they were
both born in Whitethorne Cottage. Veronica of course went on to spend her entire life there.
In 1942 Veronica started at Thorner's School when Mrs Dennis was Head Teacher. In 1948 she passed her 11+ exam and went
on to Bridport Grammar School. The main thing that Gordon recalls from this period was that, like her father, she was a keen and
very good swimmer – a fact which her daughter Marion tells us she did not know. During family outings to Bexington or Burton
beach she would literally spend hours in the water emerging only for a brief lunchtime picnic.
In the early 1950's she met Bill, a dashing young Irish fellow who had come to work in
the village. In September 1956 they were married in this very church and remained
devoted for 56 years, raising three children in their tiny cottage.
Until the last few years, when ill health prevented her from getting out and about so
much, she was a very active member of the community. With her two brothers, Ron
and Bill, she drove for the family taxi service and also spent 30 years of her life as a
voluntary driver for the Hospital Car Service driving as far as Exeter and Ringwood in
the process. She spent a lot of time raising money for the Lifepack and Air
Ambulance services.
On top of this she also led a very active social life particularly enjoying dancing and
bingo and was a member of the local ladies' skittle team. She and Bill helped to start
up and run the Youth Club in the old Sunday School and held whist and beetle drives before there was a village Social
Committee. She also liked a good joke and always made sure Bill received the latest Jethro tape for Christmas so that she could
watch it and go repeatedly through its contents afterwards.
On these sad occasions we all recall our own fond memories of the departed. In my case there are two stand-out things that I
recall – parties and cakes.
Veronica lover her parties and would use any excuse to throw one. Bill's birthday, wedding anniversaries, the dog's birthday…..
or we sometimes had a "we haven't had a party lately" party. Some major events were held at the school or the White Horse but
the ones I loved were at the cottage. We all crowded into that tiny living room, a fire glowing in the grate, an enormous spread of
food laid out in the kitchen and George Hurst perched on his stool in the corner playing his accordion.
After every 4 or 5 songs George would announce that he was stopping for a fag and a drop of "unleaded". During the course of
the evening most of us imbibed a fair amount of unleaded as well. Everybody had their own favourite George song but the
highlight of the evening was when Veronica requested George to sing the Pig Song, especially for the two young grandchildren
William and Nicholas. They would sit on the floor and stare goggle eyed at George as he sang it. Do you know the Pig Song? It
goes "there was an old farmer had an old sow… As you can see Whitethorne Cottage was the cultural centre of Litton Cheney at
that time!
Towards the end of the evening Bill would come round and dispense a drop of potcheen specially flown in from Ireland for the
occasion. Now I can assure you that this was definitely

not

unleaded – more like 6 or 7 stars! So eventually we would all stagger
home wined and dined with a warm glow in our bellies.
And it was the same with cakes. Any excuse and Veronica would bake a cake. Every now and again Janice, my wife, would
come back from a visit to Whitethorne Cottage and say "Veronica's baked you another cake" often adding "she doesn't think it's
turned out right though". "Oh!", I'd say, "what's the excuse this time?" "You gave Bill a couple of tomato plants", or "you gave Bill
a lift into Bridport", or "you looked after the dog for the day"….things which most of us would not have thought twice about – but
Veronica did. So I'd go into the kitchen and sample the new cake. Birthday cake, Christmas cake, apple cake, lemon drizzle
cake. rich fruit cake – it didn't matter which, always perfectly turned out and always delicious. Of course it wasn't just for me that
she baked cakes. Gordon Anderson tells me that when he was a scoutmaster Veronica always baked one for any fund raising
event they held, without being asked of course.
These simple anecdotes serve to illustrate how fun loving, kind, thoughtful and generous Veronica was. As we can see from this
crowded congregation, she was much loved by many, many people. She will never be forgotten and we wish Bill and the family
all the best for the future as they try to come to terms with her untimely death.
Like the rest of you, I will miss her – especially the cakes.
Thank you.
David Hearn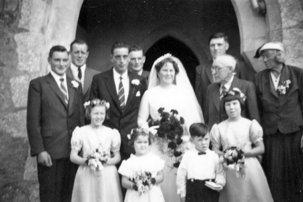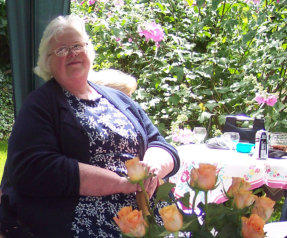 Veronica Kingston was born in Whitethorne Cottage, Main Street and lived there for the whole of her life. The following
eulogy was given at her memorial service on Wednesday 29th May 2013.
BILL and VERONICA KINGSTON
Funeral address by the Reverend Philip Stringer at St Marys Church on Friday 15
th
June 2018 12 noon (precised).
William 'BILL' Kingston Born 31
st
May.1930
Bill was born on a small farm in a village in County Cork called Drimoleoge, one of a family of 8.
The level of poverty in rural Ireland was exceptional in the period known as the Great Depression
making work almost impossible to find. As a result, Bill and a few of his brothers decided to make
for England. He settled in the Litton Cheney area and began milking for two farmers.
Bill and Veronica married in 1956 and settled in Whitethorne Cottage where they remained for the
rest of their lives together. John was born in 1958 followed by David in 1962 and Marion two years
later. Bill had to keep working hard to make sure that they were always fed and watered.
He soon rented a couple of fields and began rearing his own livestock. Together with Cousin
Edwin you could find anything from sheep, pigs and horses, to chickens, ducks, geese, turkeys
and even one or two beef cattle as part of this enterprise. Bill would be in his element as his brood
mares produced foals. Once they were a year old it fell to John to try riding these long legged
creatures, but as soon as he was on the back of one of them he was returned to earth with a
resounding bump.
Bill worked for Dorset County Council looking after school playing
fields and gardens. He and Veronica loved to go to Askers Road
House for music and dancing on a Saturday night or, after that
closed, to the Trinity Club in Dorchester or the West Mead Hotel in
Bridport. However, they liked nothing better than a jolly good party
with their family and friends and a sing-song with George Hurst on the accordion. Holidays were
spent in various places including Scotland, Austria and France.
Bill grew his own vegetables, loved his dogs and was always smartly turned out. He used to
enjoy the Whist Drives held in Litton Cheney School.
You will each have your own memories of Bill. That is good and I hope and pray that you will go
on sharing those memories long after this service is over.
So by all means shed a tear that Bill has died, but also raise a smile and give thanks to God that
he has lived a long and active life and has shared it with each one of you. Take the very best
parts of Bill's life and fashion them into an example for your own. Then his dying will not have
been in vain.
May you rest in peace. Bill.
Amen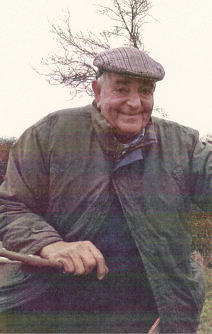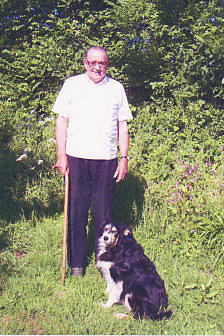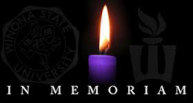 IN MEMORIAM - CONTEMPORARY












Photo by Claire Moore 3_7_2021