TERM DATES FOR 2019 - 2020
The p
at
ter
n of
in
divid
u
al sc
hool
ter
ms
a
nd
ho
liday
s fo
r p
ri
ma
ry,
mi
d
dle a
nd
seco
nda
ry
sc
h
ools
var
y sli
gh
tly f
ro
m
sc
hool to s
chool,
sin
ce
of t
he 19
5 d
ays
a
re
us
ed for
s
taff
develop
me
nt.
We a
dvise yo
u
to c
hec
k t
he
o
r co
nt
ac
t t
he
m di
rect
for
co
nfi
rm
atio
n.
THORNER'S FLEDGLINGS PRE-SCHOOL
Thorner's Fledglings Pre-School
Thorner's CE VA School
School Lane
Litton Cheney
Dorchester
DT2 9AU
Tel:
01308 482410
Thorner's Fledglings began as the Bride Valley Fledglings playgroup in the Puncknowle Village Hall in the 1980s. In 2007 the
playgroup moved to premises within Thorner's Primary School in Litton Cheney. In 2016 the pre-school became part of the school.
Fledglings welcomes children aged 2 years 9 months or more.
The premises are perfect for our young Fledglings. Our children have full access to school resources and enjoy:
the use of the school hall (LATCH) for gymnastics and other activities
the Discovery Area for outdoor exploration
the school playground, tennis court and field for games, cycling and scooting
the school pool for swimming in the summer term, and
the extra resources the school can provide above and beyond what we offer.
Our classroom is well-resourced and the children enjoy many experiences as they learn through their free-play and teacher-led
activities.
For all policies and procedures please look at our website via the school's website: www.thorners.dorset.sch.uk and click on the
Fledgling's Logo.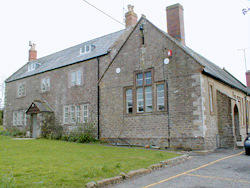 Jyotsna Chaffey
Headteacher
January to August 2019
Spring term dates
Bank holidays in the spring term
Good Friday, 19 April 2019
Easter Monday, 22 April 2019
Summer term dates
Bank holidays in the spring term
May Day, Monday 6 May 2019
Spring Bank Holiday, Monday 27 May 2019
Summer Bank Holiday, Monday 26 August 2019
September 2019 to August 2020
Autumn term dates
Bank holidays in the autumn term
Christmas Day, Wednesday 25 December 2019
Boxing Day, Thursday 26 December 2019
New Year's Day, Wednesday 1 January 2020
Spring term dates
Bank holidays in the spring term
Good Friday,10 April 2020
Easter Monday, 13 May 2020
Summer term dates
Bank holidays in the summer term
May Day, Monday 4 May 2020
Spring Bank Holiday, Monday 25 May 2020
S

ummer Bank Holiday, Monday 31 August 2020
Monday 18 to Friday 22 February 2019
Friday 8 April to Monday 22 April 2019
Monday 27 to Friday 31 May 2019
Wednesday 24 July to Friday 30 August 2019
Monday 28 October to Friday 28 November 2019
Monday 23 December 2019 to Friday 3 January 2020
Monday 17 to Friday 21 February 2020
Monday 6 to Monday 17 April 2020
Monday 25 to Friday 29 May 2020
Tuesday 21 July 2020 to Monday 31 August 2020
Our school

Ethos Council

enacted a Bible story 'The Burning Bush' relating to our value for the half term, Service.
Bredy visited the

New Barn Centre

just outside Dorchester in support of their Vikings topic.
Fledglings

and Reception children enjoyed a day out at Abbotsbury Gardens.
Bredy and Eggardon had an excellent time in the Discovery Area with the

RSPB

. They identified
all the habitats which the school grounds provide for local wildlife and listened to and tried to
identify bird sounds.
Sport:
Our
cricket
team participated in the Kwik Cricket tournament at Beaminster and were 2
nd
out of 12 teams. Super work! Some of our children participated in a cricket tournament at
Redlands, Weymouth. The girls' team won – hurray, off to the County final at Bryanston – and
the boys came third - brilliant! Some of the Year 4 children participated in the 'Big Swing'

golf
tournament at Colfox. Several Bredy and Eggardon children participated in the

West Dorset
Schools Collaboration

swimming gala

and did an excellent job. Well done! Eggardon went
sailing on the afternoon after the end of their SATs and had a great time. Several Bredy and
Eggardon children are participating in an after school

sailing

club and thoroughly enjoying it.
Several children participated in the TSA Splashathon to raise funds for our pool - we raised
nearly £1000. Wow, thank you all.